CopenHill is now open to the public. We will happily assist you with experiences in and around the power plant, such as skiing, private tours, wall climbing and delicious food. Read below and see what you can experience at the world's longest artificial skiingslope.
CopenHill / Amager Bakke
Waste-to-energy plant with multiple purposes
Copenhagen is set to open its first all-year 180-metre ski slope on the swerving roof of the city's new waste-to-energy incinerator. One of the world's largest artificial ski slopes, the facility will also feature the world's tallest artificial climbing range. Ski-lifts will take you to the top where you also find a café. The ski facility will be managed by a group of different operators. In addition, the facility will have a piste-top restaurant operated by SKANK and a Juicy Café.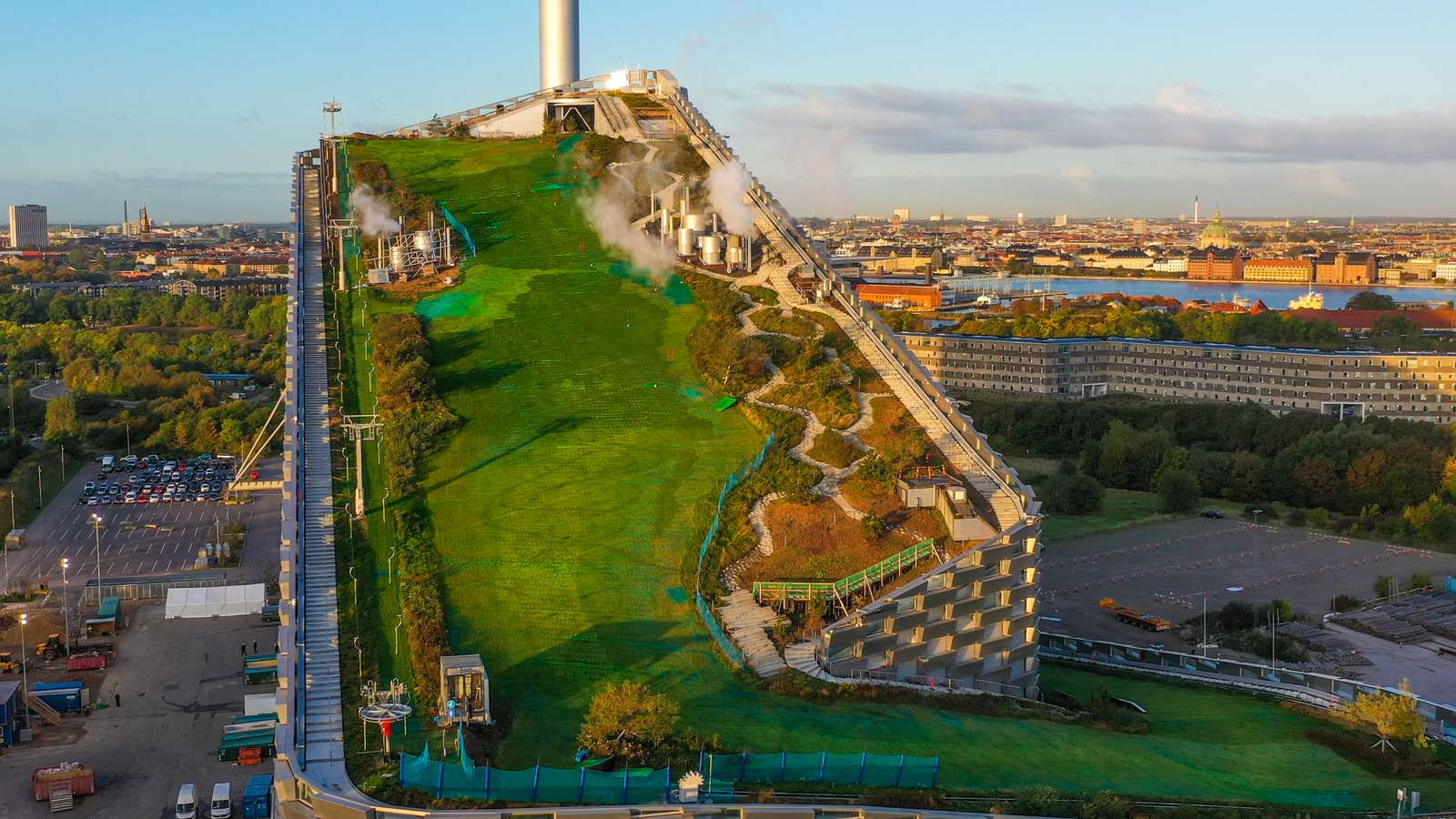 What is CopenHill even?
CopenHill is an urban mountain placed on top af a state-of-the-art waste-toenergy plant, ARC, which is one of the most unique architectural designs in the world. The plant produces environmental-friendly energy with the newest technology by burning waste and turning the exhaust into energy which yearly provides the city of Copenhagen with electricity for 30,000 households and central heating for 72,000 households.
What does it do?
The recreational area on the roof of the power plant contains a 450-meterlong ski slope and is the steepest of its kind in the entire world with
percentages that reach over 30%. The top part of the ski slope is for advanced skiers, while the middle and bottom part is for newcomers and
children. There is a total of 4 ski lifts, and both a slalom course, freestyle park and kids' area has been built to accommodate everyone. Furthermore, the
roof also contains a hiking/running trail, while the tallest climbing wall in the world is located at the side of the building with its 85 meters.
CopenHill opening hours
CopenHill is open for all! Here's the opening hours for the skiing experience:
Monday: 12 pm – 8 pm
Tuesday: 12 pm – 8 pm
Wednesday: 12 pm – 10 pm
Thursday: 12 pm – 8 pm
Friday: 12 pm – 8 pm
Saturday: 10 am – 8 pm
Sunday: 10 am – 6 pm
Holidays: 10 am – 8 pm
How to experience CopenHill?
If you want to experience the ski slope, the wall climb, the café or maybe a private tour in and around the power plant, please feel free to reach out to VIP Copenhagen. We will make sure you experience what you are looking for!